FIFA 19 - NEW MINI PATCH FMN FOR FIFA 19 ALL CLUBS BRAZILIAN
AUTHOR bhsdesigner | April 11 2019 | 14519 hits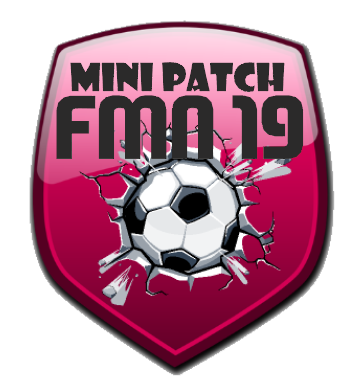 FIFA 19 - NEW MINI PATCH FMN FOR FIFA 19 ALL CLUBS BRAZILIAN
Fala galera beleza? Aqui é o BHS.
Esse vídeo é mais um tutorial de fifa 19, nesse aqui o patch é pago e é feito pelo grupo FMN - FIFA Mania News.
Onde tem todos os elencos do Campeonato Brasileiro atualizado.
Lembrando que não é possivel adicionar ou modificar uniformes e nem rotos no fifa, Apenas usar a base de dados do propio fifa 19.
Obrigado pela atenção, pela paciencia e audiencia. estamos juntos valeu!!!
Speak, people, beauty? This is the BHS.
This video is a tutorial of fifa 19, in this one the patch is paid and is made by the group FMN - FIFA Mania News.
Where has all the Brazilian Championship rosters updated.
Remembering that it is not possible to add or modify uniforms or broken fifa, Only use the database of own fifa 19.
Thank you for your attention, your patience and your audience. we are together, thanks !!!
Olá Fifeiros, estamos lançando o SQD 19 – um mini patch que atualiza os elencos dos times Brasileiros para o FIFA 19 na plataforma PC. Com este Mini Patch você terá os times brasileiros com jogadores com os nomes e overais corrigidos e autênticos.
Devida a imensa complexidade para confeccionar esta atualização estamos cobrando uma contribuição de R$12,00 pelo direito de baixar o mini patch.
Lembramos ainda que NÃO É POSSÍVEL INSERIR OU MODIFICAR NENHUM TIPO DE GRÁFICO OU ÁUDIO NO FIFA 19. O MINI PATCH APENAS ALTERA A BASE DE DADOS.
Requisitos para rodar o patch:
– Ter o FIFA 19 instalado no seu PC (qualquer versão).
– Manter sempre o Origin Off line durante a execução do Patch.
TUTORIAL:
ATENÇÃO: O PRAZO PARA ENVIO DO PATCH É DE ATÉ 24HS
APÓS A CONFIRMAÇÃO DE PAGAMENTO DO PAGSEGURO. 
Após efetuar sua contribuição, em até 24hs APÓS A CONFIRMAÇÃO DE PAGAMENTO DO PAGSEGURO, você receberá um e-mail com as instruções de download e seu acesso a nossa área FMN 19 será liberada. Para isso é necessário estar cadastrado em nosso fórum com o mesmo e-mail da compra. Caso ainda não tenha efetuado seu cadastro clique aqui.
CONTEÚDO DA VERSÃO 1.0:
LICENCIADO TODOS OS 15 TIMES DO BRASILEIRÃO;  

LIBERADO TODAS AS BOLAS PARA SE JOGAR ATÉ MESMO NÓS AMISTOSOS;  

LIBERADO ESTÁDIO LA BOMBONEIRA DO BOCA JUNIOR;  

NOME DOS TÉCNICOS DOS TIMES BRASILEIROS;  

NOME DOS ESTÁDIOS DOS TIMES BRASILEIROS;  

MAIS CHUTEIRAS LIBERADAS;  
Com o mini Patch vocês poderão criar um Modo Carreira Personalizado, por exemplo: Colocar o Ronaldinho Gaúcho como técnico do Atlético Mineiro. (SÓ É POSSÍVEL SE TIVER ID EXISTENTE NO FIFA).
Hello Fifeiros, we are releasing SQD 19 - a mini patch that updates the Brazilian team rosters for FIFA 19 on the PC platform.
With this Mini Patch you will have the Brazilian teams with players with the names and overal corrected and authentic.
Devida the immense complexity to make this update we are charging a contribution of R $ 12.00 for the right to download the mini patch.
We also remember that it is NOT POSSIBLE TO INSERT OR MODIFY ANY TYPE OF GRAPHIC OR AUDIO IN FIFA 19.
THE MINI PATCH ONLY ALTERS THE DATABASE.Requirements to run the patch: - Have FIFA 19 installed on your PC (any version).
- Always keep the Origin Off line during the execution of the Patch.To make the payment click the button of the PagSeguro below: ATTENTION: THE DEADLINE FOR SHIPPING OF THE PATCH IS UP TO 24HSAPÓS THE CONFIRMATION OF PAYMENT OF THE PAGSEGURO.
After you make your contribution, within 24 hours AFTER PAGEGUER'S PAYMENT CONFIRMATION, you will receive an email with the download instructions and your access to our FMN 19 area will be released. For this it is necessary to be registered in our forum with the same email of the purchase.
If you have not already done so, click here. VERSION 1.0: LICENSED ALL 15 TIMES OF BRAZIL; RELEASED ALL THE BALLS TO PLAY TO EVEN WE FRIENDLY; RELEASED STADIUM LA BOMBONEIRA DO BOCA JUNIOR; NAME OF THE BRAZILIAN TIMES TECHNICIANS; NAME OF THE STADIUMS OF THE BRAZILIAN TIMES; MORE RELEASED CHUTEIRAS; With the Mini Patch you can create a Custom Career Mode, for example: Place Ronaldinho Gaucho as Atlético Mineiro coach. (ONLY POSSIBLE IF YOU HAVE EXISTING ID ON FIFA).
FIFA 19 - NEW MINI PATCH FMN FOR FIFA 19 ALL CLUBS BRAZILIAN