PES 2018 PC InMortal OF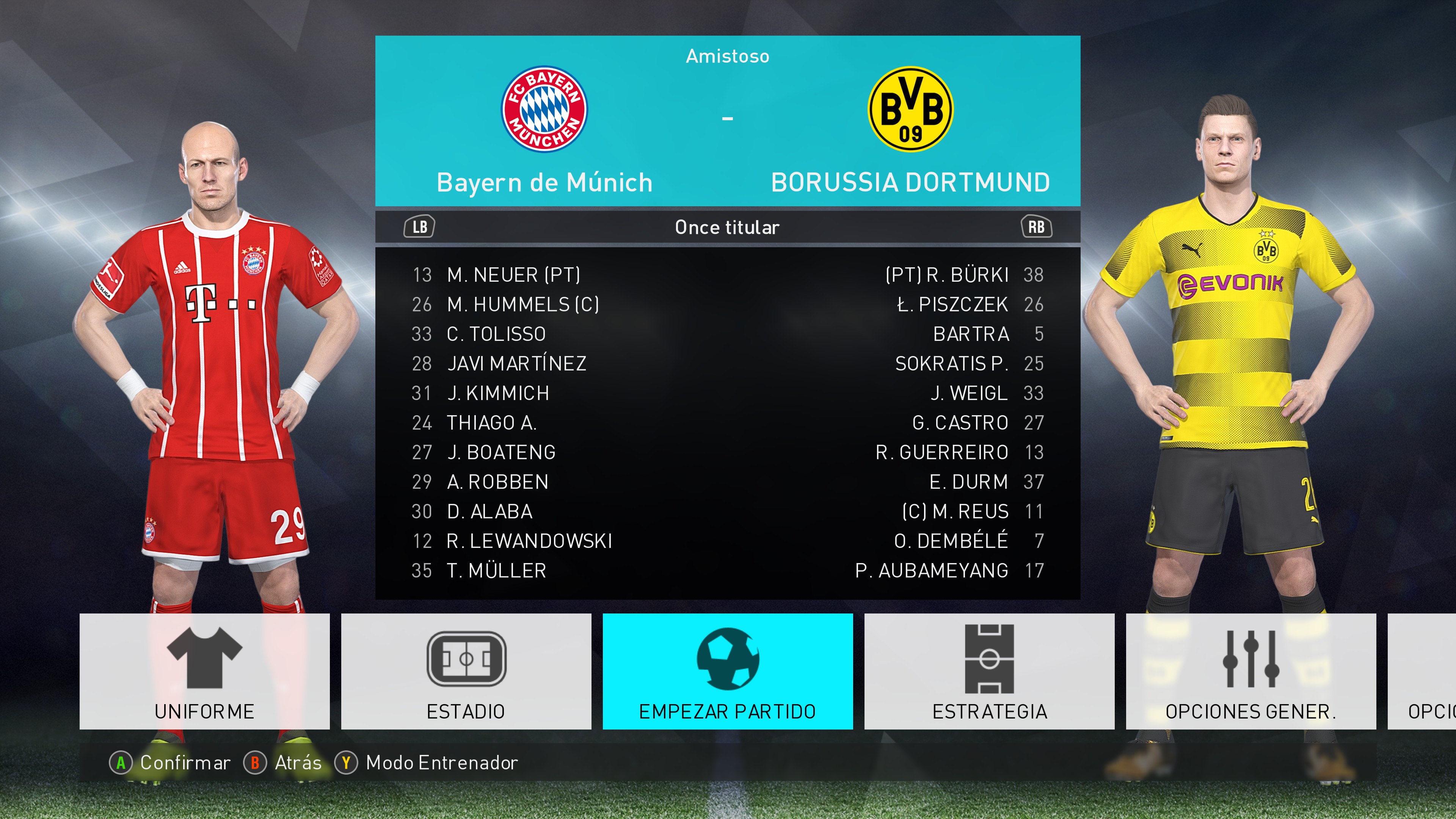 NEW v9.2.1 (Online Compatible)
- DP2 Compatible
- Minifases (+300) RM/FCB and more for Sudamerica Added by rkh257
- Transfers and last Stats Updated
Download v9.2 temp link Download Addon (I´m sorry for the site issues)
v9.2 (Online Compatible)
- Major League Soccer Teams Added (Others Latin)
- National Teams Updates
- Viktoria Plzen Team Added
- SÜle, Ulreich Players Added
- Transfers/Upd
- Minifases Sudamerica by rkh257
- New LaLiga Santander and 123 Logos by Deybi Baldeon
- Updates and Fixes
v9 (Online compatible)
- Chinese Super League w T/K/P
- Liga MX Players
- Classic Teams E/W
- Team: Istanbul Basaksehir Added
- Val Font Updated
- Transfers
- Fixes
v8.5 (Online compatible)
- Werder Bremen IA bugfix(konami bug)
- Liga/Copa MX with Teams
- Liga Argentina (Chacarita,Argentinos)
- Liga Chile Updates
- Kits updates (and added 3º kit for some teams like Depor)
- Referee kits, lfp,premier etc
- Valencia FC Font
New teams: Maribor, Qarabag, Apoel, Chacarita.
- Fixes and deleted duplicated players.
v8 (Online compatible)
- Liga Portuguesa Kits Update
- Stadiums asigned for LaLiga
- Nº Fixes for Bayern, Uruguay, México
- Fonts for Premier, LFP, Skybet, FCB etc(thanks to abarth,bersuit6,ArGeN)
- Updated Kits: Alaves, Betis, Sevilla, Girona, FCB B etc.
- Celtic FC Added
- Premier and LaLiga2 badges arm
- Fixes and Updates
-Fix Bundesliga Tactics Bug.
Update 7 (Updated for Uruguay)
- LaLiga Logo Updated(Badge LaLiga competition)
- Some solaped dorsal fixes
- LaLiga2 Managers Updates/fixes
- Bundesliga composition fix. Fake teams moved
- MÉXICO National Team Players
- URUGUAY National Team Players
- Ita/France Stadiums Previews
- Base color teams fixes (thanks Alberkin)
- Bundesliga
- Managers
- Stadiums
- Transfers
- Updates and fixes
:Rafinha Added
:Juan Bernat Added
- Bundesliga Updates(WIP)
- Teams Color Fixes
- Ribéry Added
Update 3
- Bundesliga (WIP)
- Skybet updates
- Italian 2
- La Liga2 updates
- Some National Teams
Update 2
- La Liga/2
- Premier League
- Ligue Conforma/2
- Portugal (90%)
- Italian A
Includes Kits 2K
Competitions and Logos
Option File Only for PC
New step
v8+
Copy Documents/KONAMI/ to Documents/
Copy root "PRO EVOLUTION SOCCER 2018" to steam/common dir and replace.
Old
7.5
Copy PRO EVOLUTION SOCCER 2018 folder to Documents/KONAMI
NOTE: Disable LIVE UPDATES.
Do you want to give support, feel free to invite fresh beer (thx)